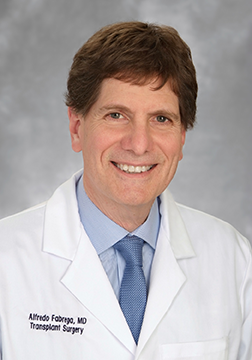 Office Location

1300 N. 12th Street
#409
Phoenix, AZ 85006
Alfredo Fabrega, MD, FACS has been a transplant surgeon for over 25 years. He is the Director for the Kidney and Pancreas Transplant Programs at Banner University Medical Center - Phoenix, and is a Clinical Associate Professor of Surgery at the University of Arizona.
Dr. Alfredo Fabrega is originally from Panama, where he received his medical degree in 1982. He completed his General Surgery Residency at McGill University, Montreal in 1988 and a Multiorgan Transplant Fellowship at the University of Minnesota in 1990.
Dr. Alfredo Fabrega is Certified by the American Board of Surgery, is a Fellow of the American College of Surgeons and a Fellow of the Royal College of Surgeons Canada. He is fluent in English and Spanish.
Dr. Alfredo Fabrega is dedicated to the care of patients with renal disease. His expertise is in kidney and pancreas transplantation; in addition he performs fistulas and inserts peritoneal dialysis catheters for dialysis patients.
---
Dr. Alfredo Fabrega has privileges at the following hospitals:
Banner University Medical Center
St. Joseph's Hospital and Medical Center
Phoenix Children's Hospital
Top Docs
chosen 17 times by their peers