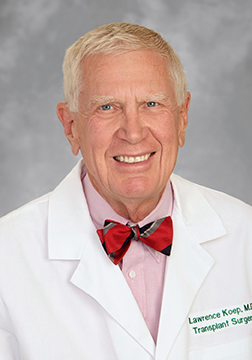 Lawrence Koep, MD, FACS, retired from Arizona Transplant Associates in 2016.
He was in private practice from 1981-2016. He currently is a Clinical Professor of Surgery at the University of Arizona and has served as a lecturer since 1981. Dr. Koep was previously at the University of Colorado as a Transplant and Vascular Surgeon as well as Associate Professor of Surgery from 1976-1981. He received his medical degree from Johns Hopkins School of Medicine in 1970. He completed his surgical internship and residency and a transplant fellowship at Johns Hopkins Medical Center in 1976. Upon his arrival to Phoenix he revitalized the transplant program at Banner University Medical Center.
Dr. Lawrence Koep offers pancreas surgery and treatments for pancreatic cancer. In relation to the kidneys, Dr. Lawrence Koep offers kidney transplantation and surgical treatments for kidney disease. When liver disease is present, Dr. Lawrence Koep offers liver transplant procedures and surgical treatments for liver tumors.
Dr. Lawrence Koep is Board Certified by the American Board of Surgery. Dr. Lawrence Koep has published numerous articles and book chapters.
---
He is a member of the following societies:
American College of Surgeons
American Medical Association
American Gastroenterological Association
American Society of Transplant Surgeons
Arizona Medical Association
Johns Hopkins Medical Society
Maricopa County Medical Society
Phoenix Surgical Society
Transplantation Society
Top Docs
chosen 17 times by their peers